With more than 20 years experience and a dedicated team, we may assist researchers worldwide with cytokine ELISAs, B cell and T cell ELISPOT assays, FluoroSpot kits and their monoclonal antibodies.
IL-33 is a broadly active, soluble costimulator of T cells, NK cells, cytotoxic T lymphocytes, dendritic cells, macrophages and ILC2.
IL-33 plays a crucial role in allergy inflammation, viral respiratory infections, COVID-19, inflammatory bowel diseases, cancer and infections e.g. hepatitis B and C viruses, CMV and HIV.
U-CyTech's Human IL-33 ELISA kit allows you to measure the important IL-33 cytokine. Check out the special offer for this item.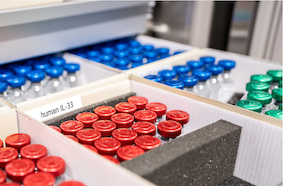 U-CyTech is certified for the international quality standard ISO 9001:2015